---
...on Pluralsight, one of the Internet's premier sources of online technology learning content.

Lab setup information is now available for these courses:
Linux High Availability Cluster Management
Linux Network Security
---
Prefer books?
TEACH YOURSELF
LINUX ADMINISTRATION
and prepare for the LPIC-1 certification exams
David Clinton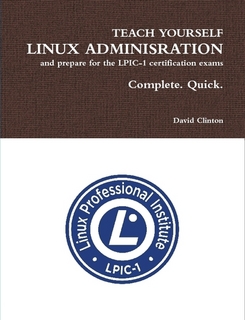 ---
---
Table of Contents: ">

Topic 101: System Architecture
Topic 102: Linux Installation and Package Management
Topic 103: GNU and Unix Commands
Topic 104: Devices, Linux Filesystems, and the Filesystem Hierarchy Standard
Topic 105: Shells, Scripting, and Databases
Topic 106: User Interfaces and Desktops
Topic 107: Administrative Tasks
Topic 108: Essential System Services
Topic 109: Networking Fundamentals
Topic 110: Security
Appendix: LPIC-1 Exam Objectives
Alphabetical Index
---
---
Teach yourself...
the Bootstrap IT way
---
For most people, watching an instructor doing something - or even reading an excellent guide - is not the best way to learn a complex set of skills. Those might be critically important elements of your quest for excellence in some technical field, but unless you dive in and work through real-world problems on your own, you'll never truly master the material.
Bootstrap IT's "Teach Yourself..." books present you with all the background and information you'll need to get started but, more significantly, they are designed to push you as quickly as possible out "into the field" where you can gain effective hands-on experience using the real tools of your trade.
Feel free to take a look at how a complete IT education using the Bootstrap IT Project might look.
Have something to tell us? Send us an email!