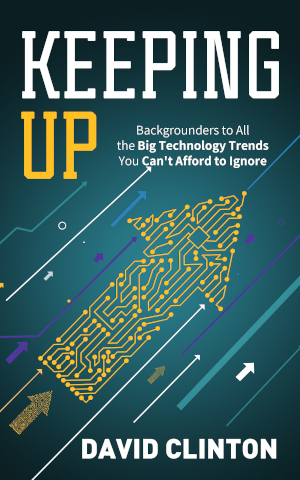 Keeping Up
Backgrounders to all the big technology trends you can't afford to ignore
---
Technology. Just keeping up is a full-time job.
But it's not like you have a choice.
Project Planning

Looking for tech ideas? The right tech skills? The best tech tools?

Career Planning

Looking to make sure all the time and money you invest in your education isn't wasted?

Background Research

Need to quickly fill in some important knowledge gaps about how the "next big thing" technology really works?
"Keeping Up: backgrounders to all the big technology trends you can't afford to ignore" can help. It's a quick, fun, and accessible guide to the current state of the tech industry and the big trends that will likely define its future. And it may just be just the short cut you need to get the "keep up with technology" job done.
Or you could just try swallowing an SD card loaded with every last Wikipedia page that has "technology" in its title.
Your choice.
---
David Clinton is the author of more than a dozen technology books for publishers like Wiley/Sybex and Manning and of more than 25 courses for Pluralsight.
---
---
Share this page: